Dissecting the Camera Matrix, Part 3: The Intrinsic Matrix
August 13, 2013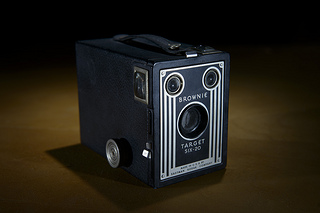 Today we'll study the intrinsic camera matrix in our third and final chapter in the trilogy "Dissecting the Camera Matrix." In the first article, we learned how to split the full camera matrix into the intrinsic and extrinsic matrices and how to properly handle ambiguities that arise in that process. The second article examined the extrinsic matrix in greater detail, looking into several different interpretations of its 3D rotations and translations. Today we'll give the same treatment to the intrinsic matrix, examining two equivalent interpretations: as a description of the virtual camera's geometry and as a sequence of simple 2D transformations. Afterward, you'll see an interactive demo illustrating both interpretations.
If you're not interested in delving into the theory and just want to use your intrinsic matrix with OpenGL, check out the articles Calibrated Cameras in OpenGL without glFrustum and Calibrated Cameras and gluPerspective.
All of these articles are part of the series "The Perspective Camera, an Interactive Tour." To read the other entries in the series, head over to the table of contents.